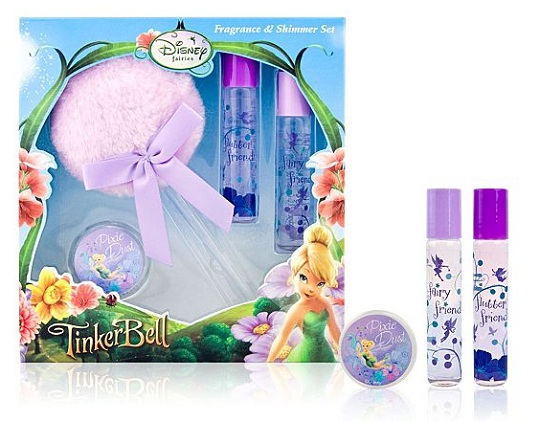 Save 50% or £2.50 on the Disney Fairies Shimmering Beauty Set from Debenhams. This cute little beauty set for a girl that includes fragrances and fairy dust was £5.00 but is now £2.50. It's perfect for little girls to dress up like fairies and have hours of fun.
The Disney Fairies Shimmering Beauty Set provides little girls with all the beauty essentials to become a fabulous fairy instantly with two lovely sweet scented fragrances. The roll-on applicator is perfect for little girls and they'll love the fairy fragranced pixie dust pot comes which comes with its own applicator wand. This sweet fairy set will leave your girls looking and smelling fantastic for all special occasions.
The set includes two 8ml Eau de Toilette Roll-ons with applicators, Fairies Fragranced Shimmer Dust and Fairies shimmer dust applicator wand. Your little ones will love being able to dress up and look and smell like a real fairy while playing with their favourite Disney Fairies characters.
Thanks to illicit_moon @ HUKD!