Over the past few weeks I've discovered cheap craft supplies and some ace ways to decorate your Easter eggs in time for the festivities. This week it's all about ideas for truly brilliant Easter crafts with the kids. Some of the ideas I've found are genius…
The one site that has really taken me by surprise is the Disney Family Fun site which has some really great guides for making Easter crafts. The ones that I found to be the best included the Magazine Mini Basket, the Lucky Rabbit Feet (these are genius)  and the Yarn Eggs.
Kaboose is also becoming a firm favourite with our family as their site is well laid out and they have so many crafts it almost hurts to have to choose only one of them at a time. The Bunny Ears for Kids are simple to make and will look fabby when they are done. But if those aren't for you, how about the Cone Cup Bunny whose expression makes me giggle every time. Mine didn't end up looking quite like that but the fun that was had was well worth it.
If you have lots of toilet rolls lying around, then the DLTK website has some Chick Toilet Paper Roll crafts that you can get stuck into easy peasy. You could make a flock of them to scatter about the house or to use as decoration for a school project.
Speaking of school Easter projects, does yours ask that you decorate an Easter bonnet to take into school? Well, how about some of these fantastic ideas to help you get that particular chore sorted out nice and easily. Your Easter bonnets will certainly be admired!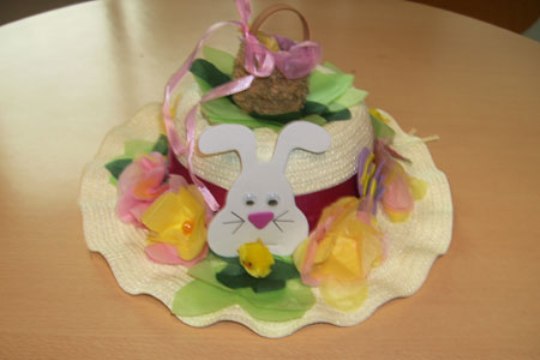 Netmums helpfully has a few great pages which will give you advice on how to make your bonnets, tips from other parents who've delved into the craft with gusto, and some unusual ideas such as making a paper plate Easter bonnet that looks brilliant.
Disney FamilyFun has Easter bonnets made from paper plates and other crafty knickknacks lying around the home and the tutorial is wonderfully simple, especially for a craft simpleton like me.  Kidspot has probably got the definitive guide to Easter hat ideas that range from decorating a pre-made Easter bonnet to strange cone hats that dangle and gleam.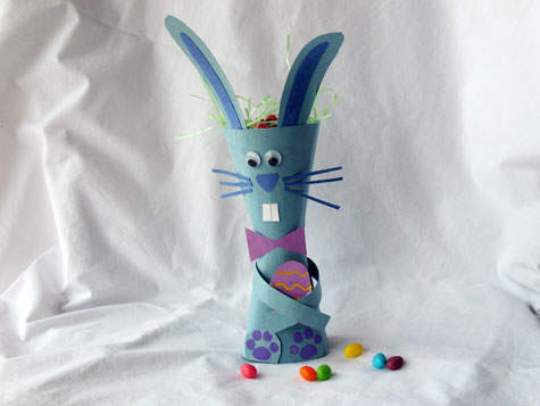 The Chicken Mask from Activity Village made me laugh out loud. Instead of those pesky chicks, why not just go for the whole chicken, hey? Their tutorial will have you make a dude that looks rather startled about being thrust into the Easter limelight and it doesn't need you to invest in any fancy extra craft bits and pieces either. Now, that's my kind of craft…
Danielle's Place has quite a few Easter craft ideas that should tickle your fancy. The Easter Rabbit Plant Stake is adorable and there are some cool printables and games you can download and use to play with over the holidays.
Of all the Easter crafts I viewed as I whittled them down to the best few around, my favourite has to be the Honey Bunny Bookmark from Martha Stewart's website. These Easter fuzzy bunnies are stunning and would make lovely gifts for grandparents as well as a cute keepsake for you. You can find all her directions for making these here.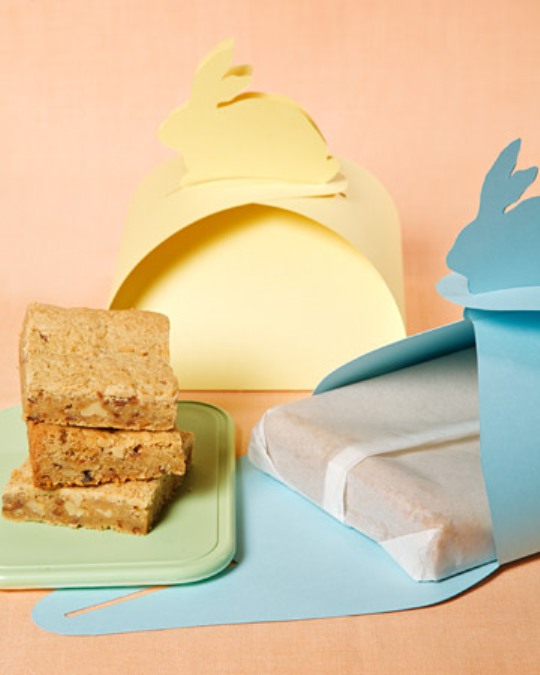 However, that craft does need quite a few specialist supplies. Although if you are a super crafty parent you probably have them already. For lesser mortals, such as myself, the Easter Bunny Box on the Martha Stewart site is a great compromise. Made with basic tools (you can use scissors instead of a craft knife) it produces a spiffy box that will make a lovely pressie. http://www.marthastewart.com/270638/easter-bunny-box?czone=holiday/easter-center/easter-crafts-and-decor&center=276968&gallery=274333&slide=270638 Finish it off with the Envelope Bunnies to really astonish those grandparents or partners. Kid will love getting these, and making them.
Finally, Parenting has a huge range of Easter crafts to choose from and enjoy. Their Easter Eggs Napkin Rings look like little mushrooms (sorry!). Busy Bee Kids Crafts has an equally impressive list of Easter crafts so make sure you visit them too – they also break the various craft projects down into age groups which makes life a lot easier.