Clintons Mother's Day Treats Review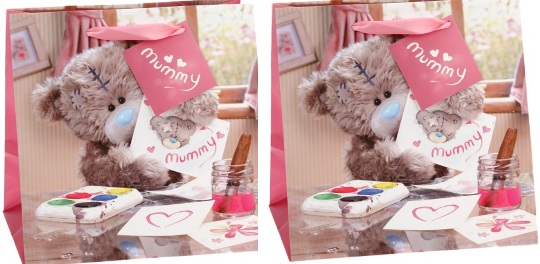 I recently got a bunch of things from Clintons to prepare for the upcoming Mother's Day fun on Sunday 18 March 2012. I wanted to do something special for the grandparents and parents this year and needed to get started early!
The first thing I got was the utterly scrummy Me to You teddy bear gift bag. At £2.50 it is a little pricey but very solidly made with thick paper and a huge print on both sides. It's the picture that totally has me smitten, this cute little bear making a card for his mummy. Ideal for storing really precious handmade gifts, I got this to put the homemade biscuits into for grandma number one.
Next up were some cards. I wanted to sort these out early because I am so bad at posting things on time. Really bad. The first one I got was specifically for Grandma Noodles (my daughter's nickname for her grandma that makes her favourite noodles) and had a cute little pic of a child on the front and was tastefully done. I also nabbed a genius card that said, "Mother's gravy was just like her kids…nice and thick" – it made me laugh so hard I had to own it.
I was impressed with the variety of cards on offer at Clintons and the fact that many of them can be personalised and that you can order them online and get them delivered for free. There are plenty of options to personalise your cards so do take a peek online.
What got me was how many different cards there were to choose from. Huge embellished ones that oozed ostentation, tiny cute ones that would guarantee a smile, and all fitting into different budgets quite neatly.
Finally, I also got the wrapping paper to match the Me To You bag I mentioned earlier. As our big push this year is to hand make every gift and do things from the hearth, I wanted to spend a little on paper to wrap the goodies up nicely. It's not available online as yet and costs around £1.50 per square. Many of these items are not yet available online but will be instore or online soon!