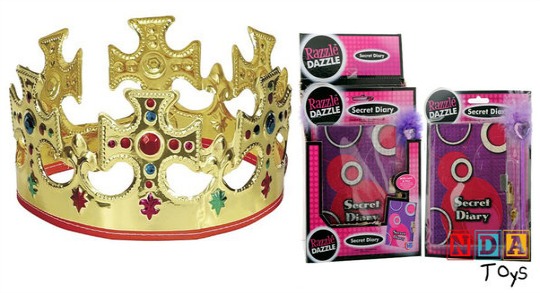 Wow, where do you find toys for 1p? Not many places but you can at Toys R Us! Use the link below and you will find a list, a very, very long list of toys that Toys R Us sell. Sort it from "Low to High" and you will see heaps of items for 1p, 6p, 9p and so on. A lot of the cheaper stuff is things that have gone out of fashion so to speak, like loom bands for instance, but there's alot of party items which are always handy to pick up cheap.
There's a lot of things you probably won't buy that is just tat to be honest, but look carefully and you will see some pretty good bargains!
If you kids like to dress up then you will certainly find plenty of extra bits and bobs, like this Majestic Crown* for just 46p. I know that not all kids are over loom bands, so check out these Scented Loom Bands* for 1p.
A lot of the items are reserve and collect only, but not all are. For those of you that manage to bag a fair few bits, then delivery is £4.95. It is FREE to collect your order from your local TRU store.