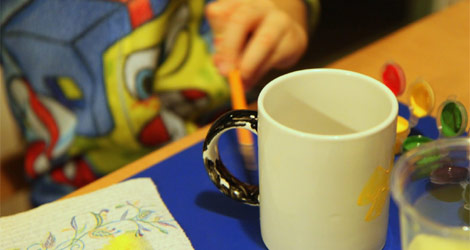 One of the surest things about becoming a parent is that, sooner than you'd think, you're up to your elbows in glue, scrunched up tissue paper, cut up magazines, and bits of old cereal boxes! It doesn't have the same lyrical quality, but the truth is that children and crafts go together as surely as love and marriage.
What all parents need to do is to make sure they've got enough supplies on hand to allow little imaginations to roam free. But, while the basic items used in creative crafts haven't changed much since we were kids (or indeed our parents and even grandparents), their availability has. It is unlikely that anyone has pipe cleaners lying about the house these days. And items we buy generally come packed in bubble wrap rather than tissue paper.
All of which means one thing - you're going to have to spend some money (ideally as little as possible)! To help you out, we've ferreted out some of the cheapest places we could find for the three most commonly used basic items you'll always want to have on hand – pipe cleaners, tissue paper, and lolly sticks.
Pipe Cleaners

To an adult mind, these are just bendy sticks. To a child they can transform a paper plate into an Easter bonnet, a couple of boxes into a robot, or some lolly sticks into a model farmyard. You really can never have enough.
These items don't tend to pop up in pound stores, our usual first stop for craft items. Unless they're part of a themed craft pack, like a DIY puppet kit. If you want to buy from the High Street, one of the best deals can be found at discount bookstore The Works. At the time of writing, the store sold a pack of 15 different kinds of pipe cleaner (including a sparkly gold tinsel one) for £1.
But for the very best bargain, you want to bulk buy online. Fred Aldous art, craft and design materials sells packs of 1,000 pipe cleaners for £17.75 a bundle. For a much wider variety of colours though, visit Hope Education. Aimed at schools, it is possible for private individuals to register as well. It sells a large range of pipe cleaners, including 'people' coloured, and tinsel. A pack of 2,000 multi-coloured pipe cleaners here will cost you £14.95 (plus VAT). Tip: if you are doing a search on the site to quickly find the pipe cleaners, enter this as one word. Their search engine doesn't seem to recognise spaces.
Tissue Paper

Coloured bits of tissue paper add that special finishing touch to just about any art project. You can pick up packs of 25 sheets in the 99p store for, well, 99p. This isn't a bad price. But, when compared to the prices you can get on the internet, it is actually rather expensive. If you're buying pipe cleaners from Hope Education for example, you might want to make the most of the delivery costs and order your tissue paper from there too. You can get 480 pieces for £14.95 plus VAT. Also, if you're planning some crafts themed around football for the world cup, the company also sells packs of black and white tissue paper for £2.95.
Craft stores aren't the only places to look for tissue paper though. After all, it is still primarily a wrapping product. At Packaging and Consumables you can get a stack of single colour tissue paper (also 480 sheets) for £8.95.
Lolly sticks

The cheapest way to stock up on these is to wash and keep the sticks from your ice creams. However, it'll probably take a while to build up a good stock, and are you really going to eat that many? These aren't just a great item to have on hand for crafts. You can also use them for making your own lollies and ice lollies with the kids. We found a great deal on these at Poundland – a large pack for £1. For that proper retro touch, try Rainbow Creations. It sells a pack of 100 'natural wood' sticks for £1.49. Personally, we couldn't tell the difference (judging by the online photo at any rate) between these and the wooden sticks sold by TTS at £4.80 plus vat for 1,000. If you're looking for projects to do online, keep in mind that US sites will probably refer to these as depression sticks.
And finally

There's one last item that every parent will find their child using because, well, a bit of shiny is always hard to resist no matter what age. For this reason, most mums and dads have at some point gone to put in the Sunday roast and found the tin foil box empty. What you want to have to hand is something that looks like tin foil, works like tin foil, but costs a fraction of the price. Most, but unfortunately not all, Sainsbury's stores sell Basics range wrapping foil for around 40p a roll. Stock up on this the next time you do the shopping, and when your child wants that something extra for their rocket ship you can let them use as much as they like. Plus, you'll always have something to wrap up your sandwiches.
What craft items do you think are a must-have in the home?