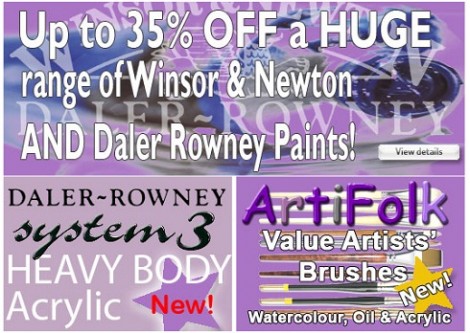 It might only be 10% but discount codes for art supplies don't seem to crop up too often. This Artifolk promotional discount code will come in particularly handy if you have older children who need proper art supplies. The site sells everything from starter and children's craft sets to technical drawing equipment. The only thing is that the code is meant to have expired already! However, it seems that no-one remembered to switch it off. I tested it out today and it worked just fine.
Click here to use your 10% Artifolk promotional discount code
Discount: 10%
Voucher code: SPRING
Expires: unknown
To use the code click on the Checkout button. The first page of checkout is the Choose Payment page. A form appears down the middle of the page for you to enter your details. But, if you look down the smaller right-hand column, you'll see a box to enter Voucher Codes. The discount will appear in the Shopping Basket column highlighted in yellow.
I tested it out on an Art Nouveau Colouring Book on CD for £8.50, and the code deducted .85 from the total. Delivery is £2.99. However, to make it really worthwhile you could do a batch buy all at once. The site offers free delivery on orders over £40 in the UK. I'm completely out of acrylic paints, and would like to stock up on some additional craft stuff too. So I'll be doing a bit of an internet search, seeing if anyone else has any sales, and if not, I'll pop back here and do a big one off buy.
I rarely find paints like that on sale though. If anyone knows of any please post here. My best buy in this regard is when a local arts supply shop closed down. They sold off all their oils and acrylics for 50p a tube. I'm just about running out of the stock I bought then though.
Thanks to MrsMcThingy at HUKD!