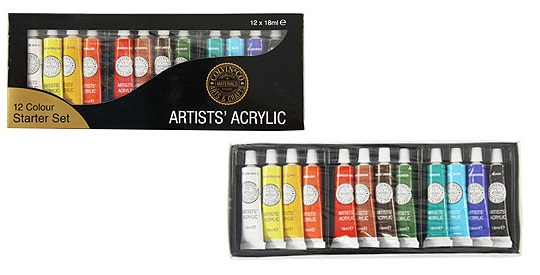 It seems like we're making something for school every other week. School projects, half term homework, Easter models. We use a lot of things like acrylic paints so I'm always on the look out for bargains. Like this 18ml Acrylic Paint Set (12 pieces) at Home Bargains. This is £1.99.
You can collect it from the store for free. Home delivery, however, is £2.99 so it'll only be worth buying that way if you're getting a number of other items.
I do get a similar set of 12 acrylic paints from the 99p Store sometimes, however it can be hit and miss as to whether they have any. Also, the quality of the paints can be a bit dry, and insoluble even after water is added.
Acrylic paints can be used with water for washes or used directly from the tube as a thicker bodied paint. These acrylic paints are ideal for art, craft and design projects in colleges and schools, in addition to being suitable for the amateur and professional artists.
Features:
18ml Acrylic Paint Set (12 Pieces)
12 x 18ml colours
Thanks to Jaysmilies22 at HUKD!