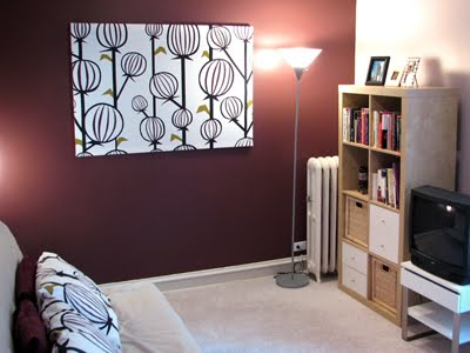 I recently bought a house. It's our very first time as home owners and it's been a pretty interesting (and rocky) ride. I have to admit that one of the biggest problems has been decorating the house on a very limited budget. There's always something that needs fixing or replacing that's far more important than making a room look pretty. I don't know about you, but it has driven me slightly mad.
This weekend was the breaking point for me; I decided to stop rocking back and forth in a corner, crying over how boring my lounge looked, and to find a way of turning my house into a home on little to no budget.

If you want to brighten up your walls, why not make some wall hangings of your own. You can do this without spending a fortune on fabrics or materials, and there are plenty of free ideas available on the net.
To start with, try knitting a wall hanging. Sound strange to you? Well, it's no different than ye olde tapestries that hung in castles back in the day but this time you can create something that's entirely your own. Whether you're an avid knitter or have never picked up sticks before, there are patterns that you can use. And many of these are for free.
Start out by visiting sites like Ravelry, and searching for wall hangings. You'll be amazed at what you can find. Patterns range from completely free, to an online purchase of only £2, to an entire book that will cost you £10 but has so many ideas that it will change your home. I am particularly impressed with the knitted wall hanging from Patons, this can be made by a beginner knitter with ease, and can be customised to suit your home perfectly.

Some knitted wall decorations consist of mini items of clothes or kitchenware that you then peg onto a line and string along the wall. This can transform a nursery into something really special, or give a beautiful country feel to your kitchen.
And they won't take you very long to make. Other ideas include Advent calendars (tis almost The Season), anigurami ornaments, plain cable-knit fabric stretched across a frame and mounted on the wall, and knitted bunting flags. My personal favourite are these knitted ceramic pots.
As you can see, there is a lot to choose from.
Some yarns cost quite a lot of money but you can get some of these for free or at massively reduced prices. Hunt around for yarn sales, especially now that the end of season stocks are going out, and visit knitting forums. I've landed several bags of gorgeous wool just because I happened to pop in on the yarn swap pages from time to time.

You can either swap yarn you don't want, sell yarn, buy yarn at greatly reduced prices, or perhaps land some for free!
Another great place to nab discount yarn is at charity shops. It's well worth trawling your area for these and you'll likely get your knitting or crochet needles very cheaply from these shops too.
If knitting isn't your thing and you want a new colour scheme, then get some paint for free. Difficult? Well, a little. Call around to all your friends and family and ask them to haul old tins of paint out for you. Once you've weeded out the dead from the useful, you can blend them, or just use one or two of them, to add spice to your house. You don't need to paint all your walls either, one vivid and exciting colour on one wall is definitely de rigour at the moment.

While this idea is quite brilliant in theory, you may not find enough paint to make a difference so your next step could be to consider making your own fabric wall art. Get discounted fabric by searching online, visiting sites like Gumtree, or hounding your local charity shops (there's no rule that says you can't shred a dress or a coat to get the fabric you want!).
It's a good idea to aim for a fabric with a large scale pattern. Geometric shapes, plain colours with a splash of design, interesting (but not too busy) patterns and cute designs are ideal for these. Then pop into your nearest B&Q or art store (or even just visit the tip) to get yourself four lengths of wood. You'll need to whip out your inner handyman when it comes to attaching the corners and the fabric but it isn't a steep learning curve.

Iron your fabric before you attach it to your frame, and cut more than you need so you have plenty to wrap around the back and sides. Then staple (or hammer) the fabric into the frame and, voila! Now you have a gorgeous fabric painting that's utterly unique.
These are just a few simple ideas on how you can change a room, a wall, or even a mood in your home without getting an angry call from your bank manager. Since I started my mission, I've knitted some cushion covers to replace our old tatty ones, and a Patons wall hanging organiser that stores our house keys, spare change and important bills.
Happy home renovating! And please do share any of your own inventions, I'd love to see them.