Slendertone Bottom Challenge Final Week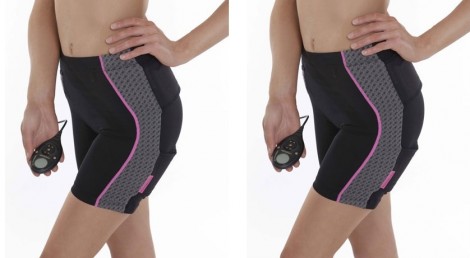 This has been the last week of the Slendertone Challenge and I have to say that I am officially addicted. Thanks to my shoulder dislocation I've been under forced relaxation so I've had plenty of time to relax and enjoy the Slendertone Bottom trainer and focus on getting up to really high intensities.

The programme has now moved from 70/75 to 80 and for the first few days of that setting I couldn't quite make it up to the full 80. It hurt a lot and I wasn't very comfortable. The instructions clearly say that you do need to stay within your limits so I've been inching upwards every day.
The programme is also focused on rest days so you don't overtax the muscles. By the time I hit my first rest day, I was up to level 80 and feeling the difference. It is a bit odd watching your muscles contracting without your say-so, I have to admit. A part of your brain is going, "Oi, I didn't tell you to do that!"
Still, in spite of the increased intensity I've not experienced the same stiffness I did when I first set out on the Slendertone Bottom Challenge. On one hand I am relieved because I was walking rather strangely; on the other hand I am concerned that it isn't having much of an effect.
 So, of course, the best thing to do was to measure and test. The results are very promising. Even though I didn't move a centimetre last week, this week I have lost an entire centimetre across my bottom area. I started the challenge at 39cm and now I am at 37cm. I have noticed a marked difference in the way I fit into my jeans and how my bottom looks in trousers.
It is actually very, very cool. I have lift and shape and tone and even though I am not a skinny thing, it has really done wonders for my shape. I am a convert.

The past week has seen me sitting on the sofa and relaxing with a good book while doing the Slendertone Bottom Challenge. It is such a good way to unwind after a stressful day, I can' tell you. You honestly DO feel like you are being massaged by Sven the genius and you have the lovely side-effect of getting a muscle workout and a new shape.
While the weekly updates on the Slendertone Bottom Challenge are now at an end, I am going to be carrying on with the system and following their next stage – The Max Toning Plan. I'll admit to being a little afraid. Your intensity goes up to 99! 99! And then it stays there as you continue to maintain the shape of your bum. While I am not sure I will ever be brave enough (or strong enough) to endure the power of level 99, I am definitely going to try.
The Slendertone Bottom kit is pricey. You will see yourself paying £140 in total and you will likely have to fork out another £14.99 after a few months for new pads. They take a bit of a beating and can get a bit icky. Still, £14.99 isn't too expensive and thanks to the rechargeable controller you don't need to buy batteries or any other accoutrements. It's worth noting that I've not needed to recharge mine since I started, that's an impressive battery life!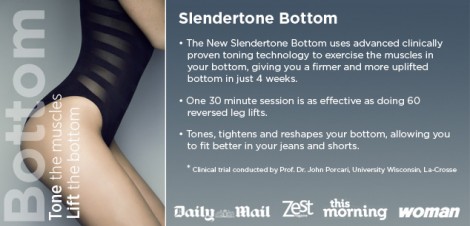 The kit will only fit sizes 6-14, hopefully they will consider upping it for the larger sizes in the future, and is easy to store and maintain. Overall I have to give this 8/10 for quality, durability and comfort. It gets 7/10 for cost and maintenance, this is definitely a luxury item, but 8/10 for doing what it says on the tin – actually working. I used to think these were just a money-making scam but the results are clear, the kit works. I was honestly expecting to expose it as a scam and thought they were mad trusting me to do a good review. Now I can say that, while you DO need to complement it with additional exercise and a good diet, it does work. How utterly brilliant. Oh, and it gets 5/10 for looking hideous while you wear it but 10/10 from my husband for making him laugh every, single day.
Now I just need to get myself the Face Toner so I can shave years off my face and Cameron Diaz will be fighting for top spot after all. (not really)