The Skylanders Toothbrush Review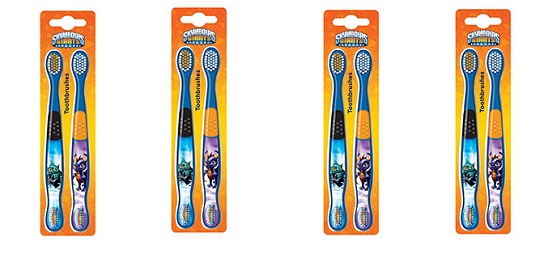 I recently got very lucky and managed to get a Skylanders toothbrush set for a measly £1.75. The set has a toothbrush with Gil Grunt on one and Spyro on the other and is an absolute win for parents who have kids that are Skylanders fans. This is one game that has gone absolutely stratospheric.
So, how do you review these, I hear you ask me? Well, we have used one of these toothbrushes for over a month now and so far it has proven to be very robust. It has withstood my daughter's tendency to chew on the bristles while brushing her teeth without getting too damaged, and it hasn't developed a serious case of sticky-outy-mad-bristle-syndrome either.
These Skylanders toothbrushes also feature a grip in the middle of the brush with easy hold rubber for little hands.  The one has a bright orange easy hold area and the other has a black one. Both toothbrushes also feature coloured bristles for extra colour fun. They don't do fancy colour changing features to let you know your toothbrush is about to die, they are way too cheap for that.
I bought my set at Game where they are currently having quite a big sale on cool Skylanders merchandise, but this is not showing online. You can also find them for £1 at some Poundland* stores or you can get them at Amazon* for just over £3.
The only thing that I find wrong with these Skylanders toothbrushes is that they are assuming all Skylanders fans are boys. Both the characters are male and there are absolutely no toothbrushes with female Skylander characters on them. This, I think, is a huge shame and drops the product points down substantially. It is time that manufacturers stopped marketing to boys exclusively when it comes to games. The score was 8/10 but now it is only 5.