Castle Bouncer with Slide For £174.99 @ Smyths Toys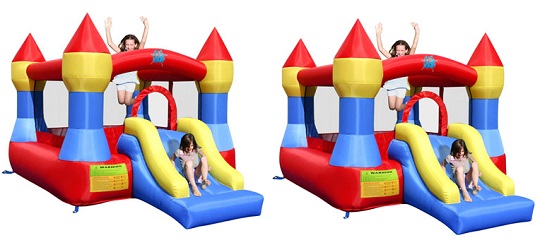 The Castle Bouncer with Slide from Smyths Toys was £274.99 but they've decided to take £100 off that price and it's now £174.99. Just think, you can own your very own jumping castle for just £174.99!
Now I know £174.99 is still a lot of money but I do think this could save you quite a bit in the long run. I don't know what it costs to hire a jumping castle but if you're likely to use one on a regular basis then it has to be worth getting your own. They're great to keep the kids entertained at any outdoor (or even indoor if you have enough space) event from Birthday parties to Sunday afternoon lunches.
The jumping castle sets up and packs away in minutes for hours of fun outdoors. It's made from durable PVC and double laminated nylon which is double stitched for further protection if pinholes appear. Electric blower and ground pegs are included for outdoor use.
I would have died with excitement if my parents had told me I could have my very own jumping castle as a kid.