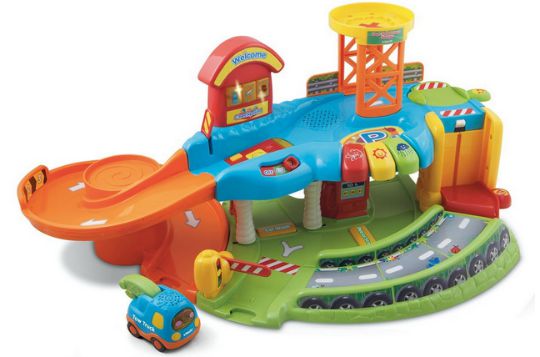 I have been keeping my eye on this VTech Baby Toot Toot Driver Garage for a while now as it always seems so expensive at around £40-£45 most places and my daughter absolutely loves this at her friends house. I have just spotted it down to a much better price of £29.74 at Tesco Direct, as they are currently offering 15% off selected indoor and outdoor toys. Might have to put it aside for Christmas at that price!
This interactive garage includes a tow-truck, petrol station, turntable winding ramp, a lift and car wash. It also has an exit gate that has a sensor which recognises the vehicle. The garage is musical, lights up and says educational phrases. The other cars are sold seperately.
What I think is great about this VTech toot toot range is that you can slowly add to the collection, perfect for at Birthday's or at Christmas when everyone asks what they can get your little one/s, you can ask for another addition to the toot toot range. This way you don't end up with lots of presents that your children may not enjoy as much.
Tesco offer a FREE Click and Collect service to your local store or you can have the item delivered to your home from £3.00.