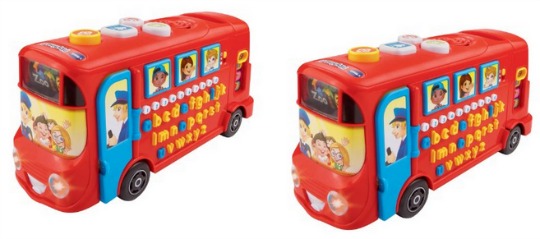 The VTech Baby Playtime Bus with phonics is one of those toys that your tot will play with for hours. It sells for £19.99 at Argos and the same at Toys R Us. Amazon are selling it for just £12.50 with FREE delivery. You can also get it at Tesco Direct for this super price, and it's included in their Clubcard Boost so could work out very cheap. Delivery isn't included with Tesco but free collection from your local store is an option.
VTech toys are also fun and educational. I must admit I am a fan and I do associate them with high quality toys. This bus is no exception, it's been highly rated with five stars on Amazon and heres why.....
...it has over thirty songs and bus noises, over one hundred interactive curriculum questions, twenty six alphabet letter buttons, and numbers up to ten. The buttons are chunky for those little clumsy fingers to push.
This learning bus toy is suitable for age twelve months and above and I can say from experience that your child will play with this and get a lot from it. I bought my eldest it for his first birthday all those years ago, it was then handed down to Ben, both loved it and I swear it's what taught them numbers and counting. The letters sound out phonically when pressed which is a cracking start for a child of preschool age as this is one of the first things they are taught when entering education.
It's not all learning, learning, learning though. It's a toy bus that will get zoomed around the living room. If all else fails your child will use if to stand on to reach things they shouldn't be touching.