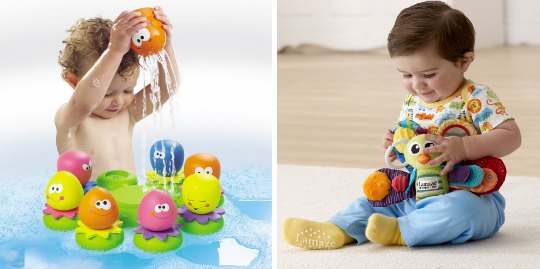 In case you were wondering why there have been such good deals on baby things at Amazon today it's because they have just started a five day Baby Event. Some of the offers are daily deals, like the Aventones we told you about earlier, plus the Bumbo on our Facebook page, and then there is also this offer on Tomy and Lamaze baby toys.
There are selected Tomy and Lamaze baby toys with up to 55% off until midnight, and prices start from just £4.99, which is great value for big brand items like these.
I really like the Lamaze Jacques The Peacock* and that is the best value too, at £4.99, and the Yo Ho Ho Horace* pirate toy is a new one and at £5.99 is a great buy as well. The Tomy Fun Octopals*are also a really low price at £6.29 today, and they look like such fun for kids in the bath. They have been on my wish list for my youngest for a long time, and at this price I think I will be getting some at last.
There are several other Lamaze and Tomy baby toys included in this offer, and they are all reduced until midnight or until stocks run out, so you have a few hours left to snap them up at these prices.
Orders over £20 are delivered fr free, otherwise delivery charges will apply for non-Prime members.