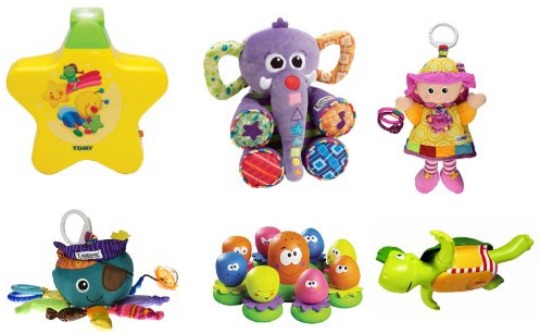 For today only you can grab some Lamaze and Tomy baby toy bargains from Amazon. Spend £10 or over and get FREE Super Saver delivery. Items start at just £4.99, and due to the popularity of Lamaze I suggest getting in quick before items start to sell out.
When my eldest two were babies I went daft and bought pretty much EVERY Lamaze toy there was. Babies love them and they are so bright and fun.
This Tomy First Years Starlight Dreamshow* in yellow only is £8.49. This is the cheapest I have ever seen this. Normally, you would expect to pay around £15 for this at the likes of Asda Direct or Tesco. We have this for Daniel, and I can hand on heart say that this is a fantastic distraction for him when he is in his cot. He instantly stops crying when he sees it on.
For just £5.99, you can get the Lamaze My Friend Emily* an ideal first doll toy for a little baby. These other items are the same price: Lamaze Calamari the Octopus Pirate*, Lamaze Mittens the Kitten* and Tomy Aquafun Octopals*.