Lamaze Spin And Explore Baby Gym £16.41 @ Amazon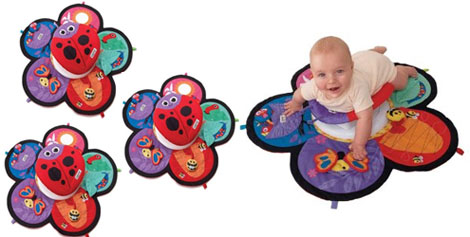 I've written about this Lamaze Spin and Explore the Garden baby gym a few times now, and every time it reinforces just how good Lamaze products are - if you're after something that's really worth spending your money on, then something Lamaze is what you're looking for.
Amazon are currently selling Lamaze Spin and Explore baby gyms for £16.41, instead of £32.99.
Now there are baby gyms and there are BABY GYMS, and this Lamaze Spin and Explore the Garden baby gym falls into the latter category - it isn't your bog standard baby gym, that's for sure.
As the 'spin' part of the name suggests, it has an additional spinning element that allows your baby to turn 360 degrees and explore every aspects of the colourful play mat beneath them. The mat is bright, colourful and has all the features you can expect from Lamaze: crinkles, squeakers, rattles and different textures to delight the senses.
The spinning 'turntable' will help to improve upper and lower body strength too; the reviews I've read about the spinner suggest it can take a little while for young babies to a) get the hang of and b) start to enjoy, but once they do they LOVE it!  If your child reallyhates it however, it can be removed
Thanks to sweets154 at HUKD