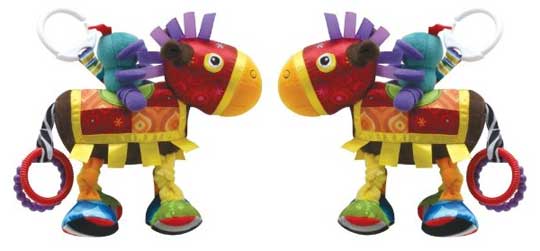 Here's another smashing Lamaze deal for you - Amazon are selling Lamaze Sir-Prance-A-Lot for £5.44 instead of £9.99; I'd buy him simply because of his awesome name alone!
I'm not sure what else I can tell you about Lamaze that I haven't already told you before, so I might just pretend you've had a sudden attack of amnesia and go over it all again.
Lamaze make the most amazing toys for babies, and little children, which have all been specially designed to encourage inquisitive play and the development of all the major senses - apart from taste, although I suppose your child will find out Lamaze toys don't really taste of anything much if they put them in their mouths *grin*
Lamaze toys are always brightly coloured, often with contrasting patterns, and features various textures and sounds - soft or smooth, crinkly and squeaky - you really won't go wrong with any Lamaze toy.
Lamaze Sir-Prance-A-Lot is no exception and he's got some great reviews...
"This was our first Lamaze play & grow purchase and I was so impressed that I ordered two more 'designs' for my son and my niece. Lots of colours and textures of material to explore; the legs are perfect for little hands to grab and the feet seem to be good for chomping!"
"Fantastic and colourful there great quality and really lovely, my daughter loves it so ive brought some more. My little one is only 6wks but always stares and calms down when we play with them with her. Wish these had been around when i had my first."
There's no delivery to pay if you choose the SuperSaver option so there's plenty of time for Lamaze Sir-Prance-A-Lot to arrive in time to wrap and give him as a Christmas present.
Thanks to clare1975 at HUKD