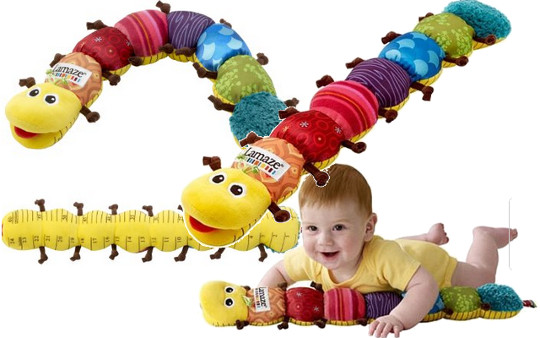 have the Lamaze Musical Inchworm on sale for half price. It is just £7.55 instead of £14.99, which is really a great price for a fabulous baby toy.
We spent a bit of time in Australia earlier in the year and one of the gifts my daughter received at Christmas was this Lamaze Musical Inchworm. My kids loved it so much, I had to fit it in my suitcase on the way home - there was no way we were leaving it behind (although seeing the price of it now, it would have been cheaper than paying for extra luggage!)
The Inchworm is soft and cuddly, it is long and squishable. It's great for tummy time, though we never needed it for that, and the music is ... well, that typical tinny kind of music, but thankfully it's not too loud. The 'feet' are knotted fabric adn there are taggies for smalls to play with and chew on.
It also comes with 'tape measure' type markings, so you can measure your baby's growth, but that would not have lasted terribly long, since it only goes to 60cm and both my children were born at 53cm, so don't buy it for that reason only!
It's a great Lamaze toy though, and the kids love it, and it's a fabulous price.
Thanks to mccririck at HUKD