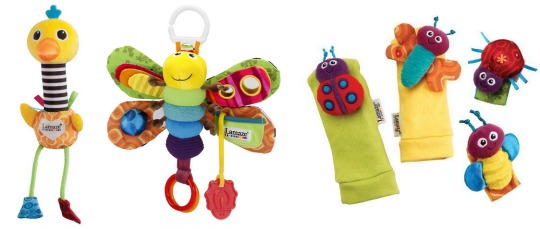 The Tesco Baby and Toddler Event is such a big one that's it's sometimes hard to see where the best deals are, but I think their reductions on Lamaze Toys are a great offer.
Prices start from just £3 for the Cheery Ostrich, and although it's out of stock online you might find the Cheery Giraffe for £2.50 in stores if you are lucky.
Most of the other toys are down from £10 to £6.50, and that includes some hugely popular toys like Freddie The Firefly, Garden Bug Foot Finder and Wrist Rattle Set, and Torin The T-Rex. 
I've had Lamaze toys for both my boys when they were babies and toddlers, and I think they are the best of this type you can buy. These are all soft toys in bright colours, with different textures, shapes, rattles, teethers, mirrors and so many little details for babies to discover and play with.
My youngest has Rusty the Robot, which is also now £6.50, and he's a wonderful little toy. His head spins around so you can change his face, and it makes a clicking sound when you do so, plus there are lots of teethers, rattles, crinkly feet and little tags to play with. This was attached to the pram, then the pushchair, and taken in the car with us too. Along with Captain Calimari I think these were the two best baby toys we bought.
All these Lamaze toys can be collected form stores for free, or home delivery charges are from £3. If you are planning on getting a few things while the Baby and Toddler Event is on then Tesco Direct offer Free Delivery on all baby and toddler orders over £29.99.