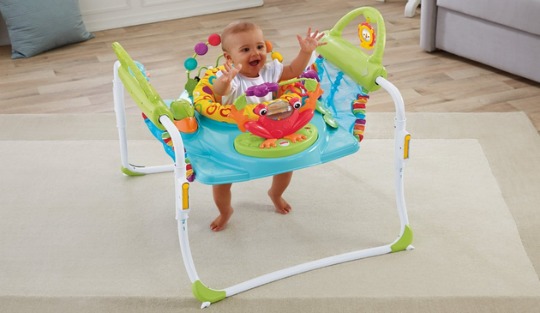 THIS IS A BARGAIN! If you are after a Jumperoo, then don't hang about. Now only £59.99 at Amazon today, this is by far the cheapest I personally have seen this at. This is the newish Fisher Price Step n Play Jumperoo, it costs £124.99 from Boots, £81.89 at Mothercare and £93.79 from Kiddicare. See, I told you it was a bargain. You get FREE delivery included at Amazon, yippee!
The Fisher Price Step n Play Jumperoo, looks different to the "regular" Jumperoo. This looks to take up less space, which is a huge bonus in my eyes. It looks sturdier than it's sister product, not that the original isn't.
It's suitable from six months, you know, the age when they start jumping about anyway. As well as bouncing this FP Jumperoo promises to be a safe environment for when baby takes their first steps. The jumper itself is suspended by strong springs for maximum jumping and safety.
This bouncer toy has the ability to grow with your child, as the platform height can be adjusted. The difference between this and the original FP Jumperoo is that the frame can extend and the platform can move for walking tots. The seat can rotate 360 degrees so that your baby can enjoy the toys that are attached to this fun activity centre.
Take a look and let us know if you have used this one. I'd like to know if people prefer it to the Rainforest one for instance.