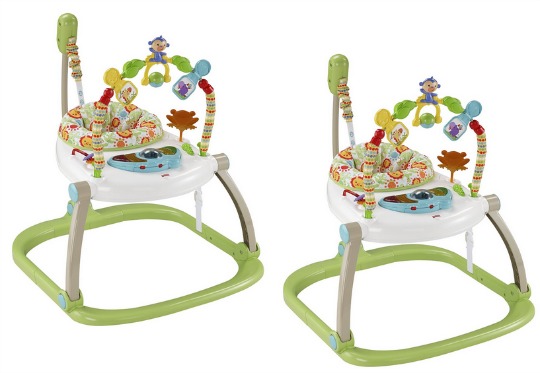 There's no disputing that Jumperoos are great fun but they are big and take up a LOT of floor-space. Guess what? You get a space saver version of the famous baby activity centre. I did not know that! It is currently only £60 at Amazon, but I am going to tell you how to get it for just £45 with FREE delivery. It's really quite easy... just sign up to Amazon Family, add the Fisher Price Space Saver Jumperoo to your basket (at £60) and then enter the promo code          BABYFMLY15, you will then only pay £45 for it. Please note that you must cancel your Amazon Family Subscription before thirty days are up or you will be charged a fee.
The Fisher Price Space Saver Jumperoo promises to be as fun as it's big brother. The good thing about it is obvious, it can sit in your living room and not hog up all of the space. Another good thing is that it folds easy and can be taken to Granny's house or anywhere else that you wish to take it.
It's height adjustable and has all the bells and whistles (lights and sounds) of the bigger model. If the size of the original Jumperoo has been putting you off then why not take a look at this one?