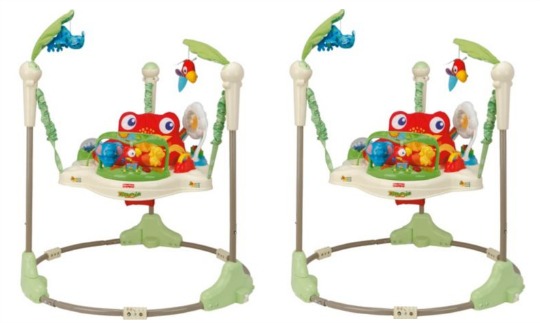 The Rainforest Jumperoo just has to be one of THE most popular toys for under one year olds. When will Fisher Price wise up and make one for us adults? The price of these always puts me off buying one, but not now. Head over to Amazon and you can bag one of these for just £59.99 NOW ONLY £49.99 with FREE delivery. Keep reading out to find out how.
To get the Fisher Price Rainforest Jumperoo for just £49.99, just sign up to Amazon Family's FREE 30 day trial, once you have done that, simply add the Fisher Price Rainforest Jumperoo* and go to the checkout. As you are spending over £60 you can use the voucher code BABYFAM15, just pop it in the box. £15 will be deducted from your order, thus making your Jumperoo only £49.99 with FREE delivery.
Just remember to cancel your Amazon Family membership before the thirty day FREE trial is up. If you don't, then you pay a yearly subscription cost for this.
You can find voucher code BABYFAM15 over at our vouchers section, alongside other for many online and High Street retailers. This particular voucher code works on ANY purchase of £60+ from Amazon's Baby Store, we chose the Fisher Price Rainforest Jumperoo as it retails for around the £90 mark elsewhere.