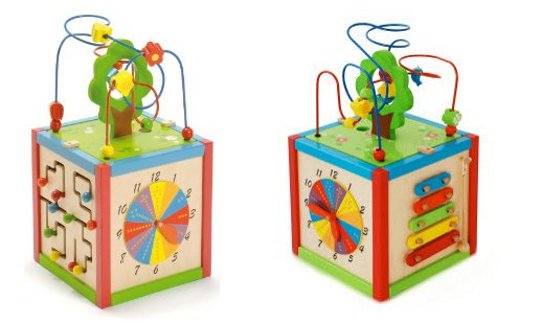 There's 15% off the East Coast Activity Cube at Amazon making it £28.99 including free delivery.
I think this is quite a lot of money for  a toy, actually, but then there's a lot you can do on it and learn from it.
Suitable for kiddies from 12 months up , the cube features a clock on one face with a moveable hand and bright colours, a fun xylophone with the pin bit – I know it has a name, but I don't know what it's called – that makes the music, an interesting looking maze, beads on a wire thread and so on.
The cube is made of wood, and painted with non-toxic paint, so no problems if it ends up in little mouths.
Reviews of this product are so-so. While some loved it, even the ones that loved it didn't like the xylophone as it has no tune.  Another likes that is it supports different stages of development and a few mentioned having to tighten the screws, so something to keep an eye on.
Overall though, a nice item and something that should keep your little one amused.