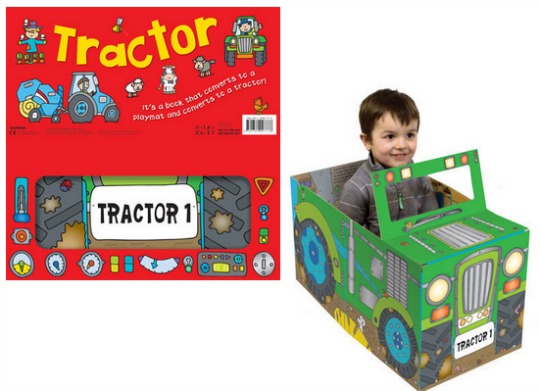 This has to be one of the COOLEST books ever, but is it a book? Or is it a Tractor? Hang on, it's a Play Mat, right? I can tell that it is in fact all three. What a lovely birthday present this Convertible Tractor Book would make. It's reduced from £17.99 to just £10 with FREE UK Delivery included from online Book Seller Miles Kelly. I just LOVE it and I have shown it to my boys and they are begging me for one.
The Convertible Tractor Book is suitable for children aged three to six years old. First you can read the story about Farmer Bob journey home after a busy day in the field. Then it can be used as a Play Mat, then do a wee origami trick and it's a Tractor for your little one to play in.
What great value - three toys rolled into one. There are others too....Convertible Fire Engine was £17.99 now £13.49 delivered, Convertible Spaceship was £17.99 now £13.49 delivered and Convertible Pirate Ship was £17.99 now £13.49 delivered.
These Books would be nice to collect and keep hold of for younger siblings.
Thanks to Elaine