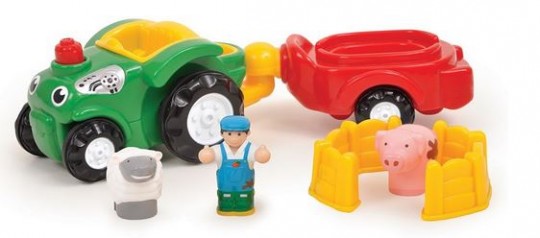 There's up to 50% off WOW Toys at Amazon right now, with 10 different sets to choose from.
There are 10 toys included in the sale, with discounts like Bumpety Bump Bernie reduced from £16.99 to £8.50. Bernie whizzes along with his friction motor and he really bumps along with his chimney bobbing. His super suspension means he can bob up and down around the WOW farm fields without even a scratch to his paintwork.
Bernie's friend Patch the Pig loves to ride on the detachable trailer and Shona the sheep has her own little compartment behind the driver's seat to ride in. Jethro, his farmer driver, keeps the animals in line and the two removable fences fit perfectly on the trailer to keep Patch in on the ride.
This seven-piece set includes a friendly farmer, sheep, pig and two fences which all fit neatly on the tractor and detachable trailer. It features a friction-powered tractor with realistic engine sound, bumping motion and bobbing chimney and is suitable for ages 18 months and up.
These sturdy and hardy toys last well and survive a lot. They're definitely a worthy collection of toys.