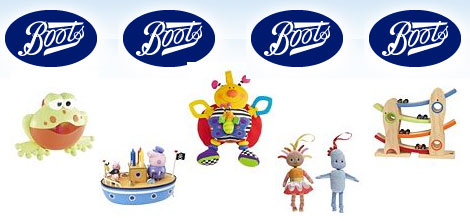 Boots have a three for two offer across their range of pre-school toys.
Boots stock a huge range of pre-school toys; with the three for two offer you'll either be able to spoil your little pre-schooler something rotten this Christmas, or sort out pressies for all the little people you need to buy for.
There are that many different top brands of toys stocked by Boots, I'm not entirely sure how best to do this - list them all or link to just a few?!
Pretty much any character toy you could wish for is available:
3rd and Bird
Ben 10
Ben and Holly
Bob the Builder
Charlie and Lola
Disney Cars
Disney Princess
Dr Who
(do you want me to carry on...?)
Dora the Explorer
Early Learning Centre
Fifi and the Flowertots
Finding Nemo
Fireman Sam
Fisher Price
Handy Manny
In the Night Garden
JCB
Lazy Town
Leapfrog
Leappad
Peppa Pig
PlayDoh
Playmobil
Playskool
Postman Pat
Roary The Racing Car
The Very Hungry Caterpillar
Thomas and Friends
Tomy
Tonka
Timmy Time
Toy Story
Vtech
Waybuloo
Winnie the Pooh
Zingzillas
...and THAT'S not even all of them!!
You can arrange to collect your purchases in store or you can pay to have them delivered to your home for £2.90; if you spend over £45 then delivery is free.
You will also collect Advantage points on your order too, if you have a Boots Advantage Card.
Happy choosing your three for two pre-school toys!