ZPM Junior Nappy Pack Changing Bag Review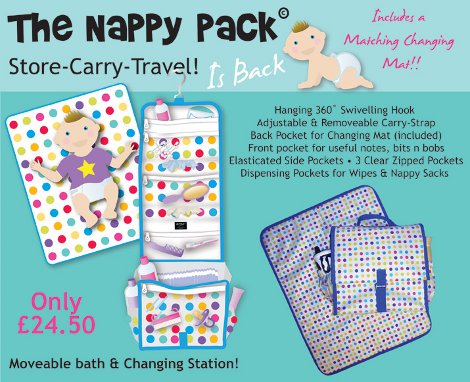 I don't know about you, but we've gone through loads of changing bags in the last 18 months. From the super-duper massive one from a leading pharmacy, which was simply too big and too heavy for a baby-wearing mum, to a tog bag, to simply shoving a nappy and some wipes into my handbag, we've seriously gone from bag to bag as we tested them all out, and tried out new nappy bags to suit our changing needs.
Now I'm more comfortable with going out with a baby, I realise that for a trip to the shops, lunch or a play date, I do not, in fact, need one of everything and the kitchen sink, you know... in case.
We now use the ZPM junior nappy bag. A spotty bit of fabulousness.
Although, to be honest, I'm not a fan of the spots, that is its singular drawback. For the rest, this nappy bag is perfect.
It is actually meant to be a bit of a weekender, overnight or on-the-go nappy bag, and I've tried it in all three those guises, as well as simply staying at home.
When we're home, it hangs on a hook next to the changing table (i.e. bed) and from there we can access everything we need.
An excellent feature of this nappy bag is the 360 degree swivel hook, great for public rest rooms, as well as a great changing mat. There are pouches on the side, I guess for bottles or jars, and the interior holds an entire small bag of nappies, or about six to nine reuseables.
The see-through zip pockets are great for such items as keys, cards and other would-be-in-the-handbag items, such as make-up. The second pocket I use for nappy cream and other travel sized baby toiletries.
The best part of these nappy bags, in my estimation, are the two waterproof, refillable dispenser pockets for wet wipes and nappy bags. I am chronically forgetful when it comes to wet wipes and more often than not go out without them, so having them already in the bag means I now rarely end up without.
All in, I think these are the best nappy bags around, especially since they now come with a shoulder strap for easier carrying, and cost under £25.
The ZPM Junior changing bag is a definite recommend from me!