Winnie the Pooh Baby Days Book £5.57 @ Amazon

There aren't words adequate enough to describe how much I adored Winnie the Pooh as a kid!
If you're expecting a baby, or you know someone who is, then this little 'Winnie the Pooh Baby Days' book is an absolute must and at less than six quid it's not going to break the bank, but trust me when I say the memories and treasures it will come to contain will make it priceless.
Time passes so quickly.  40 weeks of pregnancy can feel like a lifetime but there's a lot going on and lots that you can record in the early pages of this book, there are places for the earliest photos of your not-yet-new-arrival - scans!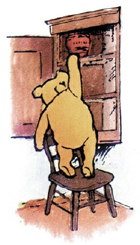 And when the baby HAS arrived time shifts into a whole new dimension again and the milestone events are frequent, fleeting and fast - the first smile, the first sleep-filled night, the first giggle, first tooth, first word, first steps!
The thing with firsts is that there's only ever one of them and it's easy to forget them as the years tick by and the milestones become bigger - the first bike, first day without stabilisers, the first day at school!  So whether it's in this book or not, take it from one who's been round this block three times...take lots of photos, write everything down, capture every precious memory and then ENJOY!
Thanks to nicola-picola over at HUKD!