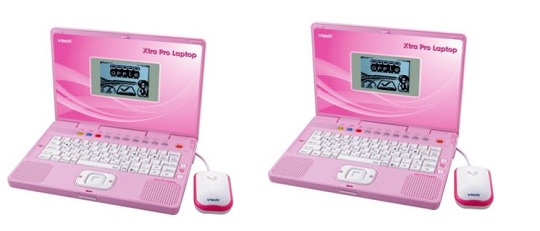 Argos has reduced the price on the VTech Xtra Pro Kid's laptop from £42.99 to only £19.99. That's a whopping saving right there, less than half price, for a laptop that has a few cute bells and whistles. This deal is only valid if you buy it in pink.
I am not a fan of these Vtech laptops as I think that, for the price, they could do far better than the world's tiniest screen with the world's worst pixellation and image quality. Honestly, we got one of the models a few years ago and my daughter could only see the screen if she angled it to get light from a specific angle. Shocking!
That's why I would never buy one of these at the original price. That and the fact that the one side stopped working after, oh, twenty minutes. So yes, not great, but this is a new model and looks pretty funky if you fancy taking a chance?
Thanks to shazfaz at HUKD!