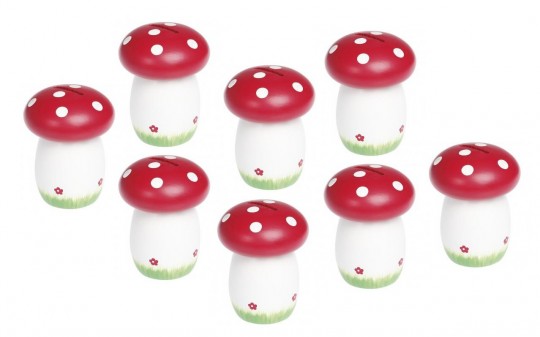 These super cute toadstool money boxes are currently £2.95 at the Dotcom Gift Shop, reduced from £6.95 each.  Delivery is £3.95 to mainland UK and free for orders over £50
I found this new website recently and I think they have the cutest stuff for adults and children. At the moment their toadstool money boxes are on sale and I think a bunch of these on a windowsill would be really cute!
You could write on them what each different box is saving for – 'movies', 'new camera', 'shoes', - or if you don't have specific savings, label them with the value of the coins that will go in them, i.e £1, 50p and so – and have a money saving garden.
I think it would look lovely!
The toadstools are made of wood and rubber – I'm assuming the bit that keeps the money inside is the rubber bit, and each mushroom stands 12cm tall. With a diameter of 10cm, you could probably fit five or six of them comfortably on a windowsill… see I'm really invested in that idea!