Tesco Loves Baby Wet Wipes 64pk 38p In Tesco Stores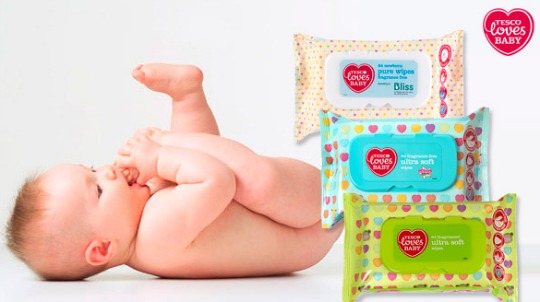 If you are nipping in to a Tesco today or popping past one then keep your eyes peeled. We have heard that several Tescos across the UK have been selling Tesco Loves Baby Wet Wipes for just 38p a pack. Each pack contains 64 wipes, so these aren't travel pack size but they full size ones.
You won't find these online to buy at this price, however there is a possibility that if you Tesco Groceries order gets picked from a store that is selling these for this price you may, by luck get them for this heavily discounted price. You have a much higher chance getting them in store.
We cannot guarantee that your local Tesco will have them so we don't recommend you travel miles especially to check.
Baby wipes are so handy to have. You don't even need to have a baby to use them. They can be used to clean handbags, take make-up off ( that killed me saying that) and all sorts of different uses. You can of course you them for pooey bums, dirty faces and sticky hands.
Whatever you use them for at 38p a pack they are a great price, so get looking and stocking up.
Thanks to pinkpenguin05 @ HUKD