Tesco Loves Baby Laundry Detergent Review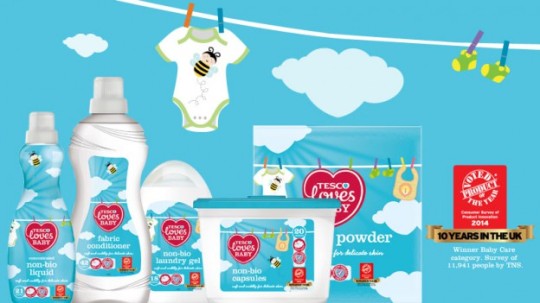 Reviewing laundry products is a very subjective business, as a fragrance that evokes visions of a spring morning to me might make you think of something you'd use to clean a public toilet.
Once we've chosen a favourite, though, we tend to stick with it, and so I was a bit worried I wouldn't be able to give Tesco Loves Baby's new range of non-bio washing products a fair evaluation quite simply because I've never used it before.
To my surprise, though, I found myself highly impressed.
The full product range includes a super concentrated liquid, gel, powder, capsules and fabric conditioner, but I was sent the gel and fabric conditioner to try out.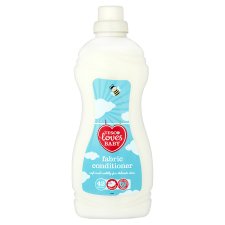 So what is it about Tesco Loves Baby's laundry products that makes them specifically suited to washing baby clothes? According to Tesco, it's that they're tough enough to tackle baby-specific stains and dirt, but gentle on sensitive young skin.
The products are dermatologically tested, non-bio and enzyme-free, which is particularly important to me as my family has a history of skin-related issues.
The non-bio laundry gel holds 630ml, enough for 18 washes at normal levels of soiling, load size and water hardness. It's the standard story of filling up the cap to a specific point, then sticking the cap into the machine itself on top of the clothes.
Oddly, the cap has marks for 30ml and 35ml, yet the bottle says you should use 35ml for a light wash and 37ml for a heavy load. It's not a huge deal, as you can just add a couple of extra drops to make up the difference, but it's curious all the same.
The 1.5L fabric softener, meanwhile, is good for 42 normal washes, but again there's a bit of confusion regarding the measures. One full cap is said to hold 40ml, but for a large load (or a normal load needing extra softness or freshness) you're told to pour in 55ml, while for a normal load it's 35ml and for handwashing 18ml.
And so on to the fragrance. Tesco itself says its laundry products have a "great 'baby-clean' fragrance", but first of all they would say that, and secondly what exactly is a "great 'baby-clean' fragrance" anyway?Why the cap couldn't be made to hold say 35ml so that at least one of the washing scenarios would require exactly one cap full is beyond me, but it's not like your baby's clothes will be ruined if you're a little over or under, so it's an irritation rather than an actual problem.
What I will say is that to me, both products smell pleasant enough. I was a little concerned when I first opened the bottles that the fragrance would be overpowering, but once it had been through the wash cycle at the correct dosage our clothes smelled fresh and clearly "fabric-softened" but not in an unbalanced way.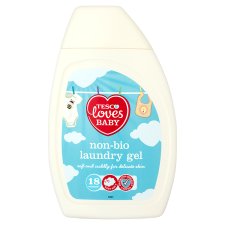 As for performance, it did just as well as my regular products at dealing with more stubborn stains and spills, and while some things just don't come out (or not without some kind of pre-wash treatment, anyway), the same can be said for most rival products too.
The Tesco Loves Baby non-bio laundry range has been named Product of the Year by the Consumer Survey of Product Innovation for 2014 – an award voted for by consumers themselves. Which proves that while you just can't please everyone all of the time, the Tesco Loves Baby range gets pretty close.
As always happens in the review of personal products, laundry detergents and so on, I mention that  my daughter has a super sensitive skin and that I'm really nervous using any of this stuff on her. As it happens, she didn't seem to have any reaction to those of her clothes I washed in this product. Whether that's because she's growing out of her sensitivities, or because they are just that gentle, I can't really say. I did wash some cushions that were recipients  of an 'accident' in it though, and they came out amazingly fluffy, soft and beautiful. The clothes didn't have the same reaction (this is a good thing. Not sure we went fluffy clothes), they were soft and nice though. So I loved it for that for sure.
The Good
Tesco Loves Baby products are good value for money

They are widely available, and easy to find in pretty much any Tesco
Many new parents especially are quite overwhelmed by the various options and choices, so this is simply branded and easily identified. If it's your brand of choice, you'll recognise it even in a sleep deprived haze.
For most people, the sensitivity level on this is low (or is that high) enough that it won't cause skin issues.
The smell is refreshing and lovely, though being used to eco balls and such like, I find it quite strong.
The Bad
There are strange measurements that don't totally correspond to the instructions on the cap. This could be confusing to anyone that follows the guidelines to the letter. I just tend to lob in a squirt, so it's not a problem for me.
The Verdict
Laundry detergent is as much a personal choice as anything else. There's nothing inherently wrong with the Tesco Loves Baby Non-Bio detergents and most of us will be perfectly happy with it. It's a good price and should be you be able to pick it up on sale or on offer, double the bonus and the bargain.