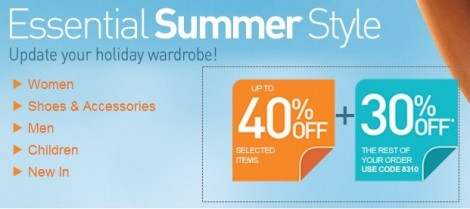 La Redoute is having a summer breeze sale with up to 40% off selected items and an additional 30% off the rest of your order if you use the code below. This means you end up making some really tasty savings that can add up to 70% off your total order. Yay!
Some of the items have been marked down by 40% in the sale, a great way of nabbing some lovely summer dresses just in time for your summer holiday. And, if you use the code 5094, you get an extra 30% off the rest of your order.
Items included in the La Redoute sale are things like printed vest tops, sleeveless dresses, leather sandals, maxi dresses, t-shirts, shorts, trousers and more. The items range from women's clothing to men's clothing to children's clothing so you are likely to find something for everyone in the sale.
Actually, I rather like the way they have structured the site because once you click on the 40% off logo on the main page, you can then click on the different amounts – 20% off, 30% off, 40% off, and 50% off – to see what is included in each sale. Brilliant.