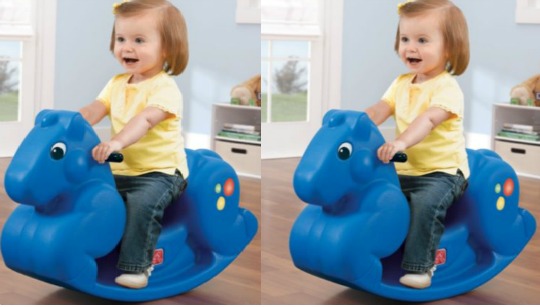 If you still have a present to buy for your little one, but you are struggling for ideas then have a look at this Step 2 Carousel Pony fro Argos. It has been reduced and is now only £10.49. It had originally been £34.99, but there is absolutely no way I would ever have paid that for it. I reckon £20 would be more reasonable, but it's certainly a good buy at just £10.49, that's for sure.
The Step 2 Carousel Pony is a really fun rocker for little ones. It is moulded to accommodate little bums comfortably, and has little handles for ears. Your tot can cling to these to ensure they stay put as they furiously go back and forth on this plastic pony toy.
Your toddler can place their feet on the ground to rock or on the footrests on the side. This toy is for children around one or two years old and can take children up to 35kg in weight.
You have a choice to reserve and collect this from your local Argos for FREE, and you don't actually have to pay until you collect it or you can choose to have it delivered for just £3.95.
Thanks to mobjw @ HUKD