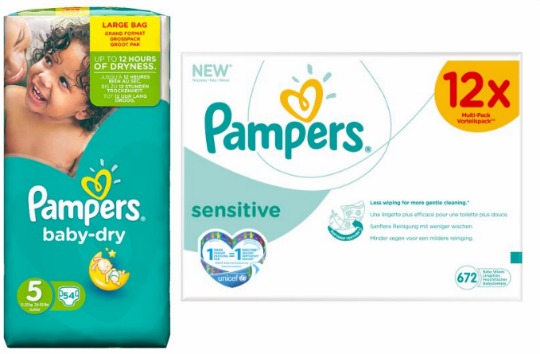 This week is Pampers' Wonder Week. What does that mean? Golden Deals at the likes of Tesco. Getting money off nappies is always a bonus in my eyes. Think about how much we spend on them every month. Just now you can get £10 off when you spend £50 or more on Pampers products at Tesco. To get your discount just use eCoupon XXGF4L. If you are new to Tesco Groceries, or you other half is, then register with them and spend £60 (at least £50 of that on Pampers) and use eCoupon XXFNJE, plus the code mentioned above and you should get the £10 off your Pampers and an extra £12 off. So, you can get £60 of Pampers for just £38!!!
Some of the Pampers Nappies Packs are already included in deals or are reduced, this means you can save even more money. Check out these Pampers Active Fit Nappies* reduced from £8.50 to just £6.50 or these Pampers Active Fit Nappies Large Pack* for £10.50 each or TWO for just £16.
Wipes are included in this great deal too, you can never have too many packets of baby wipes. They are so multifunctional. This 12 pack Box of Pampers Sensitive Baby Wipes* are £11.