Sophie The Giraffe Teether £8.99 @ Amazon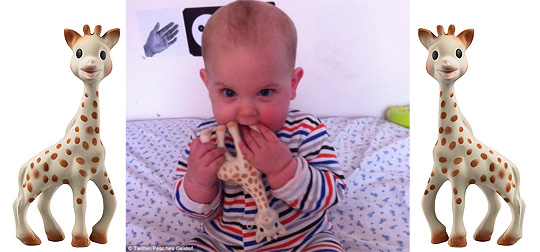 Amazon are selling this (very strange) Sophie the Giraffe teether for £8.99, her usual full price is £12.49.
Now, I've written about this Sophie the Giraffe teether before, but I didn't write it for a deal post - it was for a Celebaby post!
Sophie made the pages of the British press when Peaches Geldof tweeted a picture of her son, Astala, chomping on his own Sophie and other celeb parents, who've bought their kids 'Sophies', include: Kate Hudson, Maggie Gyllenhaal Nicole Richie, Isla Fisher and Amy Adams.
And get this: Sophie, the teething giraffe, has been the teething toy of choice in France for over 50 years - in fact, nine out of 10 newborn French babies are given a Sophie.  Now if that's not testimony to her effectiveness, then I don't know what is!
The question is: WHAT is it that's made Sophieso successful, AND recently become the celebrity teething toy of choice?!  I really can't answer that question for you because she just looks like a bendy, rubbery giraffe to me.  
There are thousands of other teething toys out there that look infinitely more 'trendy and sophisticated' than Sophie.  And perhaps that's the point, maybe it's because she's not those things - SO not trendy that she's become ultra trendy!
So there you have it, if you want the hottest, most popular teether in the world...buy a Sophie.
Thanks to mikegrant1 at HUKD