The Skeanie Skirtle Review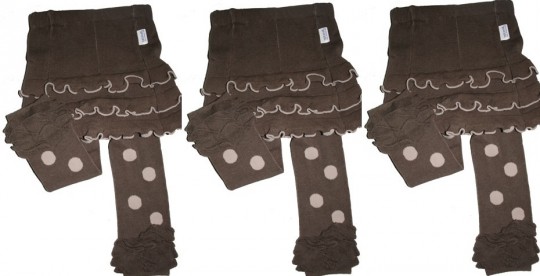 Sometimes a product comes along that just makes me sigh with delight and the Skeanie Skirtle is one of them. The idea is simple but the execution is just lovely. Picture a pair of thick stockings, almost leggings, with spots on the legs and cute (and very subtle) frills on the ankles. Then add a skirt that frills with piping to match the spots. Yes, that's the Skirtle.
The skirt and the leggings are one item so they are easy to put on and take off, keep those cute little bottoms covered, and are brilliant for everyday wear and, as we discovered, dancing. The Skirtle we got is brown with white spots and white piping along the skirt ruffles. My daughter took one look at it and refused to take it off.
This is how we discovered that it is ideal for dancing class as the fabric is stretchy and soft and moves easily. The skirt part also doesn't ride up as much or as often as I'd thought it might either.
I have really put the Skeanie Skirtle through its paces. We have worn it to dancing, to rollerskating, to three playdates and to the beach. It has been washed about six times and has not shown bobbling or beading, hasn't demonstrated any visible loss of softness or colour quality and the fabric hasn't gained that faded/rubbed quality that these types of fabrics are prone to.
The only really big problem that I have with Skeanie Skirtle is that they don't make it for kids over the age of five. You get them from 0-5 and in pink, blue, fawn and chocolate. I am gutted that my child will soon outgrow this item and wish they made bigger sizes.
The Skeanie Skirtle costs about £19.99, is very well made, looks fantastic and is worth every penny.