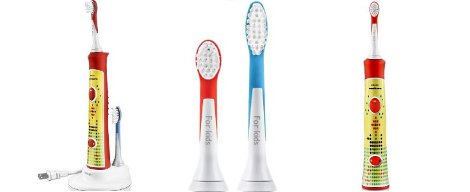 There's a Philips Sonicare for Kids Rechargeable Electric Toothbrush available at Amazon for £31.99 which is 55% off the (rather astronomical) £71.49 it usually costs.
Okay, I think this is still quite expensive – I bought an electric toothbrush recently at half price for £17.00, so this one at almost twice the price is still a bit hectic, but then at less than half price, if it's something you've been looking out for, it's a good price.
The Sonicare for Kids electric toothbrush has a timer that starts at one minute and adds a few  seconds each day till it reaches the dentist-recommended two minutes.  It has interchangeable colour panels so kids can customise their toothbrush – and know which is theirs – and 'fun' sounds to encourage them to brush the front and back of both upper and lower teeth. According to a reviewer, the 'fun sounds' are an electronic  tune to tell the child when to move on to a new part of their teeth, which, he says, really works in helping instil a good brushing routine.
The Sonicare Electric toothbrush has loads of reviews on Amazon, some varying in their enthusiasm for the product, but overall good.
This offer is available on Amazon till midnight on Sunday, so you have a little time to think it over.