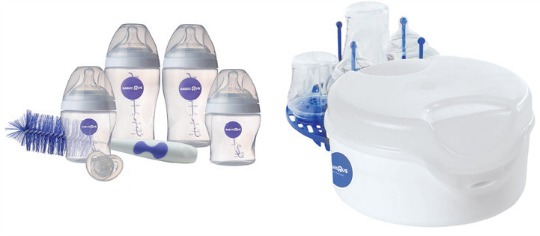 The starter kit is £2.96 and the steriliser is just £4.96. If you choose to buy both together it'll cost £7.92 and that's delivered.
I'm always a bit wary of RRP's on stores own brands as let's face it they can pluck a figure out of thin air and we have nothing to compare it to but this does look decent, especially if you're on a budget, as a lot of new parents are.
In the starter kit you get 2 x 150ml bottles with slow flow teat, 2 x 260 bottles with slow flow teat, 1 x 0-6 month soother and 1 x bottle and teat brush. I've paid more for a bottle brush before, so if your baby gets on with these bottles, you're onto a winner. There aren't any reviews on them unfortunately but I'd probably give them a go at the price.
The steriliser holds up to four Babies R Us bottles and sterilises in four to eight minutes, depending on your microwave. Also includes the teat tongs too. Again no reviews on this one, so we're going by what we see really.
You can reserve these for free by checking Babies R Us stock levels near you or opt for the free home delivery Heidi told you about yesterday*. If you are spending over £30, check out the Babies R Us voucher here first, you could shave another £5 off your total.