Protect And Nourish Me Organic Monkey Gift Set Review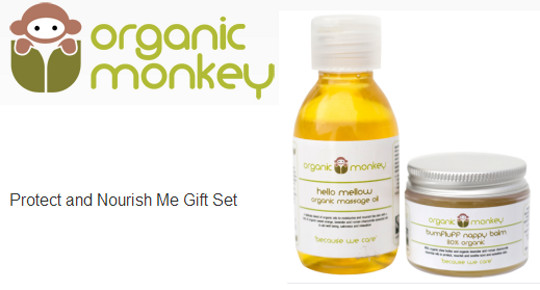 What is nicer than cuddling up with your baby, getting the oxytocin flowing, and engaging your senses of touch and smell with the gurgling coo-ing of your baby? Well, when your three year old can't sleep and says 'mummy, massage me?'. Yeah – that rates right up there with the first newborn smile. At least it did for me!
We love massage around here. So much so that I qualified in infant massage between the two babies, and now I love helping other mums discover the beauty of massage. While in classes I always recommend a very plain and basic organic sunflower oil for small babies, I have and love the Organic Monkey Hello Mellow Organic Massage Oil for my toddler, so when we were sent the Protect and Nourish Me Gift Set I jumped all over it.
I love the massage oil and the Bumfluff Nappy Balm – as does my three year old. She had great fun smearing it all over her doll's bum. That was fun.
Anyway, I can't say a negative thing about these products. The oil is made up of all natural ingredients, with sunflower oil being the carrier oil. There's apricot kernel oil, sweet almond oil, olive oil and vitamin E oil and they've added essential oils sweet orange, lavender and Roman chamomile, all of which have calming and soothing properties.
I love lavender, but this oil has a predominantly sweet orange scent, with an undertone of lavender and chamomile. It's beautiful.
Sometimes, especially in this wintery weather my skin gets really dry. I grab the oil and lather my hands in it, and it feels fantastic. The oil absorbs quickly – essential when you have two little ones! - and my hands feel softer and smoother, and most importantly there's no oily residue to stain things.
One of the things I love about it is how moisturising it is. I've even used it on myself as an after bath moisturiser a number of times and it leaves my skin feeling soft, smooth and beautifully moist. My daughter has quite a dry skin too especially as we head into winter and there's been a marked improvement in her skin since we've been using this oil.
Bumfluff Nappy Balm is 80% organic, and carries the Fairtrade logo. It is shea butter based and is silky smooth. I love the smell of it, and after a nappy change, will rub some over my own hands too and spend ages just sniffing it. It doesn't contain honey, but it smells honey-ish to me. It's gorgeous and luxurious and beautiful.
You don't have to use much of it, it really goes a long way, so while you only have 50ml, it lasts and lasts and lasts. As a nappy balm, it's great too. The shea butter serves as a rich barrier cream, and nappy rash does fade away in the face of it. It contains lavender which is anti-septic and vitamin E and chia seeds, all of which are rich in skin-healing properties.
These two items come together as a gift set, which sells for £21.50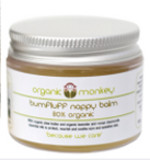 The Good
It's just amazing. It's beautiful, gorgeous, luxurious.
It contains no 'nasties'
It's fairly traded and largely organic
It lasts for ages
It smells incredible
It works really well
The Bad
It's expensive, but worth it in how long it lasts -but if you hadn't used it, you wouldn't know that.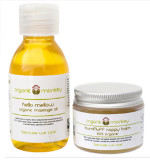 The Verdict
I think, had I not tried and been using the Organic Monkey products, I'd probably not buy it at the price, but having used it and fallen in love with it, I'd probably fork out for it again. It's a tough one because it's not cheap, but it is worth it and it lasts for ages. It would make a stunning gift, that's for sure.