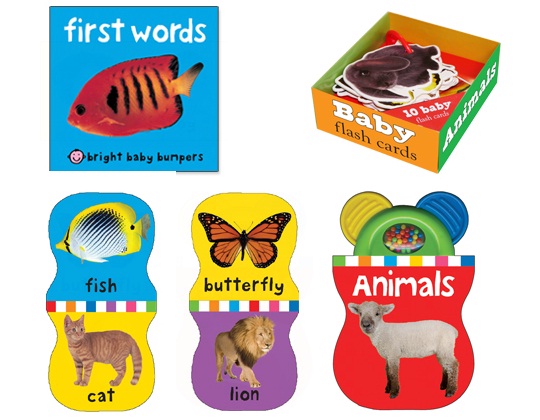 When my son was six months old, his grandmother bought him a range of books from Priddy Books. Now, he had a LOT of books. I love books. Everyone in my family loves books. He was given them by the truckload.
But these books really stood out, and were firm favourites for a number of reasons right from the start. The first of the books that he took to, in a big way, was the Baby Shaker Teether Animals (£4.99). This book lived in my change bag, and was the main source of entertainment when we went out. There's two textured 'ears' on the top of the book which are ideal for little hands to grab, and chew. It has a rattle, and the sturdy, thick pages.
The pages flip up, and on each there's a simple, clear picture of an animal along with that animal's name, on a bright, primary coloured background. My son, who is obsessed with animals, still keeps this one, the photos are that good he still likes to look at them.
I don't know what it is about flash cards that sets my teeth on edge. Maybe it is the impression of hot housing that comes with them. But the Animals Flash Gift Card Box (£4.99) is more like a different way to present a baby book than flash cards. The cards are on a sturdy ring that again, babies just love to grip. And throw! This one was another favourite for keeping him entertained when we were out. The cards took more of a battering than the book, and it shoes. But apart from a few knocks around the edges, it was in perfect condition when I passed it on to my friend's son earlier this year.
I'd say this would make a perfect first birthday present.
Finally we get to my favourite. The Bright Baby First Words (£3.99) book is a visual treat for adults as well as babies. Clear, beautiful pictures on a plain, solid colour background. When you spend a lot of time looking at cartoons, something like this book feels so good! As is common with the Priddy Books range, this one has thick, strong, solid pages that can take a lot of bashing and gumming. They're easy to clean too.
And I almost forgot! The last one is a bathtime book, which is why it very nearly got left out. My son used to get me to read this one to him over and over in the bath, and it is still part of is bath toy collection. Now it is less a case of reading and more convenient floating platform for target practice with his toy submarine. The point is, the book has stood up to nearly six years of sustained, nightly, bathtime routines.
Sadly I cannot find it on their website any longer. It seems a shame that the company has stopped making it. I hope they read this review and change their minds!