PlayPennies Giveaway: Win One Of TWO Gym Memberships For A Year With GymCube!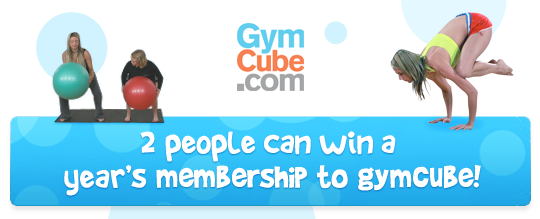 When you become a Mum free time becomes just a distant memory. With errands to run and things to sort out here, there, and everywhere, it's not very easy to get some time to yourself to relax, de-stress, and stay fit. In fact as a new Mum, or even an older Mum, you can pretty much forget about spending much time at the gym right?
Not only do you have to find the time to get down to the gym, making sure it fits in with all your commitments, you also have to find the money to pay for it, which can be pretty extortionate, especially when there are lots of things your kids are asking for!
Still, exercising is a great way to de-stress and relax, and just help to rejuvenate your body and mind. And how do you fit it into your ever changing schedule? Well that's why we created GymCube.com.
GymCube.com is a revolutionary new website, the first of its kind to use state of art streaming technology to bring LIVE and On Demand exercise classes straight into your home, office or hotel, on any internet enabled device.
So if you can't make it down to the gym, or just don't like the gym, all you have to do is log onto GymCube.com with your smart phone, tablet, smart TV or computer, and then you can be joining in with a massive range of exercise classes and workout videos to suit everyone's tastes and abilities.
We have leading pre/post natal expert Cherry Baker teaching the highest quality specialist exercises for expecting and new Mum's, making staying fit and healthy simple and easy during and after pregnancy, and we have top quality dance instructors so you can Strictly Come Wiggle, or Salsacise every week!
And with our extensive Anytime archive section available for our members to catch up with any of our 300+ exercise classes, ranging from circuit training to yoga, to aerobics and Pilates, you don't need to worry about missing a workout any more because of other commitments! You can just watch a class whenever you want, wherever you want.
We've even got some kids dance classes on, to give yourself that little half an hour of free time to yourself, while your child gets some fun and safe exercise, promoting healthy living and eating in the meantime.
The best thing about it? We're giving you the chance to WIN one of two Annual Memberships to GymCube.com, so you can exercise and keep fit with all our instructors for a whole year!
Register for your free trial by visiting here , and see below for more details on how to enter the competition. Good luck, and happy exercising!
How To Enter:
Standing a chance to win a year's free membership to GymCube is EASY! Answer the question below and tweet a link to the contest and you have just entered twice...
Question: Who is the expert teaching specialist exercises for new and expectant mums?
Leave a comment in the thread below with answer (1 entry)
For bonus entries to the competition:
Subscribe to the PlayPennies daily email update (1 entry)
Tweet a link to this contest and leave your twitter link below (1 bonus entry)
Rules:
Contest ends on 07 April 2013
Open to UK residents only
One type of entry per household
Must complete email verification when subscribing
Must include a valid email address if commenting
Admin's decision is final in all cases