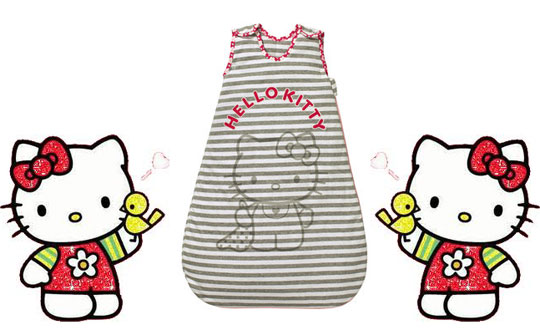 Toys R Us are selling 0-6 month Hello Kitty baby sleeping bags, with 2.5 and 1 tog ratings, for half price: £4.99 instead of £9.99.
My love for baby sleeping bags can only be described as borderline fanaticism.  In fact, I'm not sure it's even borderline, I think I crossed that line years ago!
You see, my eldest two children were both born in November and whilst my son slept so still it was terrifying, to begin with, going into his bedroom to find him in exactly the same position as when you left him, his sister was an fidget of note!
I tell you, that child did not stay still for more than two minutes; I was forever up and down during those cold winter nights to cover her back up again, only for her to kick the covers off 10 minutes later.  She's still the same now, although I don't go in to tuck her back in anymore - at 17 she can sort herself out.
If they'd had baby sleeping bags when those two were little, I'd have saved myself hours of non-sleep (if you see what I mean), so when my youngest was born in July, I was READY when winter rolled into town and had armed myself with an arsenal of baby sleeping bags.
I cannot adequately express the sheer joy to you: NO more tucking in blankets thousands of times a night - changing nappies in the middle of the night was easy-peasy and, on some occasions, Edward didn't even wake up as his top half stayed wrapped up and warm; just fabulous!
About the Hello Kitty sleeping bag togs (just in case you're not sure): 1 tog is great for spring, summer and autumn, 2.5 tog is for seriously chilly winter nights.
You can't arrange to have your Hello Kitty baby sleeping bags delivered as they're not available for home delivery but, with a Toys R Us in almost every town (or near someone you know, I'm sure), it's not going to be a huge hardship to reserve online then pop into store to collect them.
Thanks to joshtbh at HUKD