Kids Chewable Multi-vitamin – Buy one get two free @ Puritan's Pride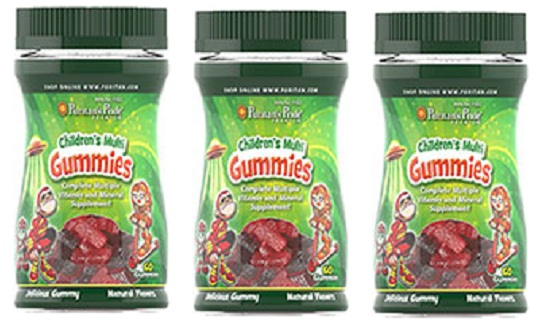 Boost your child's immune system with these Multi Gummies from Puritan's Pride. Buy one get two free ie. three for just £6.24. Or buy two and get four free ie. six for just £12.48. What a fantastic bonus! Create an account with Puritan's Pride and only enter your delivery address once or just check out and input every time you buy. All products are shipped from Puritan's Pride's U.S. warehouse so delivery so you may be subject to customs fees and/or import duties and taxes, which are levied once a shipment reaches the UK.
Make vitamin time your child's favourite time with these delicious chewable gummies! These multi-vitamins may taste like candy, but rest assured that they're packed with essential vitamins and minerals necessary for your child's healthy growth and development. Included are Vitamin A for the eyes, Vitamin D for the bones, and Vitamins C and E, plus Zinc, for the immune system.
Puritan's Pride recommends that children over two years of age, chew two gummies per day. As a reminder, discuss the supplements and medications you give your kids with your health care provider.