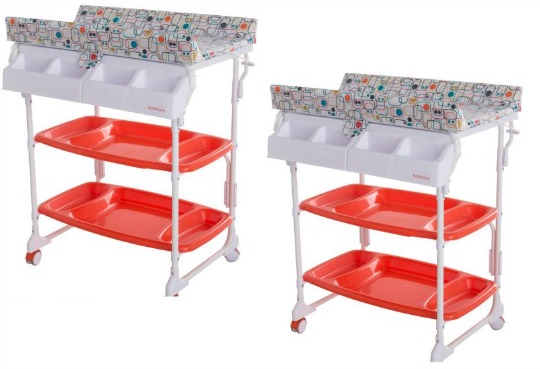 I am truly shocked at what an amazing price this Kiddicare Splash Changer Super Looper is. It's only £29.99 with FREE delivery! I had a Cosatto changer very similar to this and I paid £11o for it! It's not like this one is less attractive, in fact I think it's pretty darn smart. Plus I reckon you could easily make your money back if you sold it on once baby has outgrown it.
The Kiddicare Splash Changer Super Looper has a sturdy steel frame with a built in bath, that is hidden by a heavily padded changing mat. There's a drainage pipe so you don't have to break your back when emptying the bath of water.
It'll do your baby from birth until they are twelve months old. My goodness how mine saved my back when changing bums and bathing baby. I was glad of the £110 I spent, had I paid £29.99 I would have been ecstatic.
There's storage underneath for baby toiletries, nappies and wipes. It's on wheels so you can literally bath baby anywhere in the house as it's so easy to manoeuvre.
It can all be wiped down and cleaned with ease, even the changing mat as it has a PVC coating.
Thanks to millarcat @ HUKD