Johnson's Baby Wipes Box Of 12 Packs (672 Wipes) £7.97 @ Amazon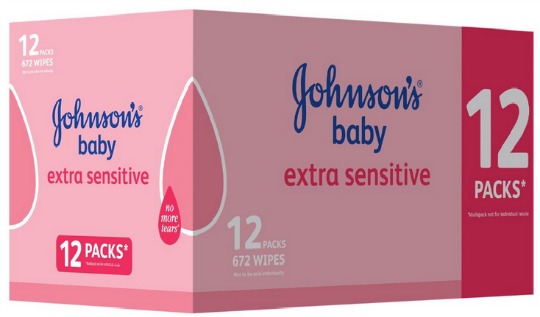 Johnson's Baby Wipes have to be one of the bestsellers in the United Kingdom. I love these extra sensitive ones, and I switch between these and Aldi Mamia ones. I do prefer these though, but I buy wherever my purse allows. The Johnson's Baby Extra Sensitive Box containing twelve packets of wipes is currently selling for just £7.97 at Amazon just now, that works out at just 66p a packet! You will most certainly struggle to see them selling for less than that.
We go through an obscene amount of baby wipes in this house. We use them for baby's bum, cleaning sticky mitts, cleaning sticky faces, cleaning the leather sofa ( apparently it keeps the leather soft) and for wiping bogeys off of things. I know other people use them from removing make-up etc, so they are handy to have around.
In this Johnson's Baby Wipe Box you get twelve packets of wipes and in each packet you get 56 wipes, so in total you get 672 wipes. That should do you a good while even with little bums to clean regularly.
To get FREE delivery on this item you must top your spend up to £10, so you need to spend another £2.03 on something like these Sock-Ons*.
Thanks to rjmjnlcfm @ HUKD