Huggies Pure Baby Wipes 87p @ Wilkinsons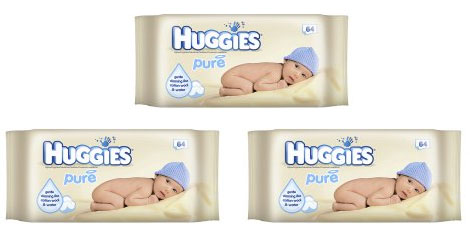 Wilkinsons are currently selling packs of Huggies Pure Baby Wipes for just 87p - if you were to buy the equivalent single packs in Tesco they would cost you £2.54.
Baby wipes are SO useful that even if you don't have babies, you should have some. Even with my eldest baby now 16 and my youngest four and a half, we still get through fair quantities of them.
There are baby wipes in the all the bathrooms, me and my daughter use them for taking make-up off, there are wipes in the kitchen and a couple of packs in the car.
As far as babies are concerned - these Huggies Pure wipes are designed to clean with the same level of gentleness as water and cotton wool, are approved by the British Skincare Foundation, are pH balanced and perfume and alcohol free.
There's no limit on how many packs of Huggies Baby Wipes you can buy and you can order both online, or buy in-store.
You can order online and arrange for in-store collection after four days of placing your order, or if you really are stuck you can pay £4.95 for home delivery...I'm not sure why on earth you'd do this, but I'm just the messenger and want to arm you with all your options.
Thanks to ilovepink at HUKD