HEADS UP: Tesco Baby & Toddler Event starts 14th January 2015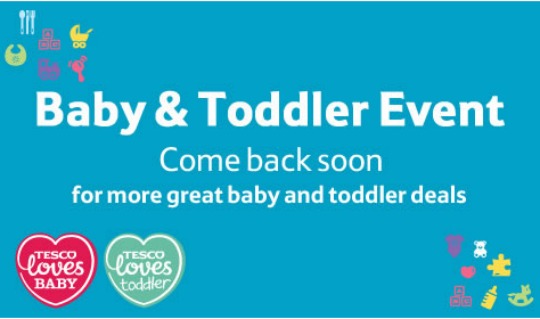 You heard it here first folks!  We have EXCLUSIVE information that the next Baby and Toddler Event at Tesco will be running from 14th January 2015 until 4th February 2015.
Julie on Facebook asked about upcoming baby events, so we did some digging and we managed to find out that at Tesco the next promotional event will be coming in just two weeks time. Put the date in your diary!
Because it has not been officially announced there are no firm details of what will be on special offer, and no price details for you yet, but when we do have those we will update the blog to let you know straight away.
From previous events we can expect offers on nappies, wipes, baby food, clothing and lots more, but remember that infant formula for babies under 6 months cannot be promoted or included in any offers.
When it does start you can click here for details of the event.
There will also be an Asda Baby Event in January or early February and we're working on getting that date for you too! We will keep you posted. Watch this space!