Guess How Much I Love You My Baby Book Review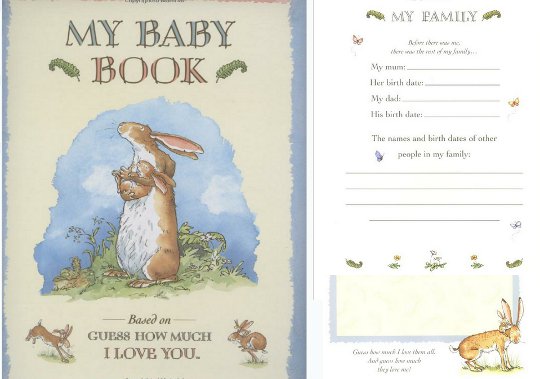 Guess How Much I Love You has certainly branched out into a whole business all of its own, hasn't it? It's now also a baby's first memory book, and it is absolutely lovely.
Based on the book, the Guess How Much I Love You My Baby Book is a hard cover, 45-page book that retails for £9.99 (although I bought it at Sainsbury's for £3 and have seen it on Amazon for £6.79).  It is themed to the book throughout, with beautiful illustrations and lines from the book strategically placed – for example on the 'My First Footprints' page, the picture with the rabbit standing on his hands is shown, with the text "Guess how much everyone loved me.  All the way up to my toes."
Information wise, there's loads to record. Everything from the standard, "my mother's name" and "my father's name" to move obscure and unusual bits, like "Other News" which has space for the name of the prime minister at the time, other world leaders, some hit songs and some famous athletes. There's space to write what a newspaper costs, as well as a cinema ticket and a bottle of milk. You can even stick a postage stamp in to show what they look like in baby's first months.
There are boxes throughout for photographs of baby, family and so on, spaces for foot prints and first and second birthday pictures.
At the back there are also four pages for other 'special memories' of things said and done.
The Guess How Much I Love You My Baby Book is absolutely gorgeous, would make an amazing gift and will be a treasured keepsake.