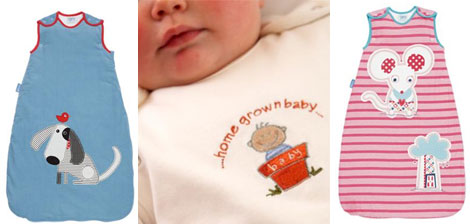 Bumpto3 have some lovely Grobag Baby Sleeping Bag bargains on their site at the moment - £8 off the rrp on selected ones.
My eldest will be 16 tomorrow, he isn't a fidget. When he was a baby you could put him in his cot, tuck him in and he'd be in pretty much the same position come the morning.
My daughter will be 15 tomorrow, she IS a fidget. When she was small you'd tuck her in and within 10 minutes the blankets were off, tuck her back in and within 10 minutes everything was off again.
There were no such thing as Grobag baby sleeping bags back in the mid 90s; thank goodness they'd invented them by the time my youngest was born, he was born with a Phd in fidgeting and put my daughter to shame!
Baby sleeping bags are sruch a genius creation (one of those 'why didn't I think of that' ones) which is guaranteed to keep your baby warm during the frosty winter nights we're now getting; warm babies don't wake up before they wanted to because they're cold which means more sleep for YOU!
Just scroll down this page of Grobag Baby Sleeping Bags and all the ones with the £8 discount are listed at the bottom - how much they are depends on the age and tog size you choose.
There are lots to choose from for girls and boys so happy sleeping, for EVERYONE!